Detector Sales

We are your Local Authorized Full-Service Whites Metal Detector dealer for Southern Arizona.
Arizona Detectors LLC is a mobile business based in Vail, Arizona, just east of Tucson. We serve all of Southern AZ.

Please call or email me today for a free catalog, demonstration and other information.

Let us know what you're interested in or if you're new, we can help guide you on your way.

We try to keep every White's machine and pinpointer in stock for you to try. If we don't have what you're interested in, be assured, one is probably on the way so our customers can check them out.

Whites is all we use, so White's is all we sell.

Their machines have never let us down, and that's important when you're working in remote areas! They are rugged and they function as advertised.

A demo at a local park will really show you how great White's metal detectors are.

Contact me today for a free catalog, demonstration and other information.

Receive answers to your questions.

Learn what works in Southern Arizona.

Support a locally owned and operated business within your community (I have always been a licensed business and I support the community).
And in addition, with every detector purchase, I will provide some free preliminary training to ensure you're able to hit the ground running!

You will have access to an experienced metal detectorist who is very familiar with the challenges associated with detecting in Southern Arizona.

These are things you can't get when you buy from an online store or from an auction site. Don't buy a cheap, useless metal detector that will break or not operate properly. Buy a great White's!


It is my goal to help every client of mine become the best metal detectorist they can be!



Get started today with a fun, family-oriented activity that will provide you and your family with years of enjoyment!

¡La búsqueda de tesoros en serio que es divertida para todos!

We are an official business located within the State of Arizona, as such we collect sales tax based on the rate where the transaction occurs. We typically try to meet our customers in areas where the tax rate is the lowest (usually Pima or Cochise County land).

We will collect no sales tax if your detector or other merchandise is shipped out of the state of Arizona and you are from out of state of Arizona.

Please call K.G. for a consultation: (520)429-5969


Or contact me anytime at:

Please check back for regular updates.
Thank you for your business and support!


Made in the USA

White's metal detectors are made by American workers in Sweet Home, Oregon, USA.


Read more here.
Please report website issues to:
Last updated: 01/22/2018
New For Kids!
The XVenture!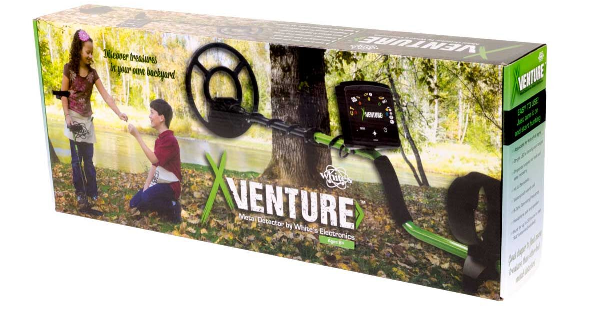 White's has released an exciting new detector for kids.
Get your kids OUTSIDE!
Take a break from the video games and TV, start your treasure-finding adventures today!
Unlike other metal detectors in its class, the XVenture shows you what's in the ground before you dig. With simple icons and flashing LED's showing iron, foil, nickel, pull-tab, and coin, it's easier to focus on digging up the treasure and skip over the trash.
The sensitivity boost and non-motion pinpoint mode round out this metal detector's features and make it useful for finding dropped bolts, studs in walls, and even the ring your neighbor lost in her azaleas!

To make the most out of your adventure White's provides you with a blue-handled digging tool, treasure apron for storing your finds, magnifying glass, adjustable headphones with volume control, and a book full of helpful hints. Everything you need of find and collect treasure!
If you are a budding backyard archaeologist, a careful coin collector, or looking for the legendary lost treasures of Long John Silver, the XVenture is the perfect way to get started with metal detecting. With the factory 2 year warranty and a full line-up of more advanced metal detectors, White's Electronics will be there for every piece of treasure you find!
Recommended ages 8 & up
---